Useful Tools and Pleasant Luxuries
A useful tool is something whose use increases idleness more than it decreases it. It always costs time and energy to make and maintain any tool, and this decreases idleness. But in use, a tool may often generate more idle time than it cost to make it. It may take a few hours or days to make a tool like an axe or a hammer which will, over its lifetime, save many hours of work in cutting down trees or chopping up logs.
Humans make and use an enormous variety of tools, whose utility lies in the amount of idle time they save or produce. But at the same time, they make a great many other things which do not save any time at all. Prototype tools, before they have been perfected, very often cost more to make than the time they save in use. Such tools are useless tools, or luxuries. They consume idle time rather than produce it. But very often these luxuries are wanted for their own sake, or for the pleasure and amusement that they provide.
It is almost entirely through the use of tools that humans increase their idleness. Humans are in many ways themselves the original and most adaptable useful tools. They can perform almost any task. And human society, which increases its members' idleness through its division of labour and economies of scale, may also be regarded as a useful tool. And so also are food and shelter, and axes, and ropes, and baskets. Vehicles of every kind, as well as roads and canals, speed the transportation of goods and people.
Apart from such physical objects, knowledge itself is a useful tool. Mathematical skills enable calculations to be made more rapidly and more accurately. A knowledge of language speeds communication. The ability to read and to write opens up a wealth of further knowledge. The acquisition of a particular trade skill increases trade productivity. A knowledge of history and of literature brings the insights of past authors.
The utility of all these goods is to be found in the working time that they save, not from the pleasure or satisfaction they provide. Such pleasures are to be found in luxuries and amusements and pastimes of one sort or other, most of which save no work at all.
Food and Shelter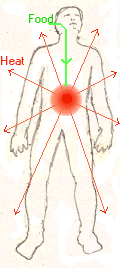 Humans are primarily energy consumers. They run on food energy in the form of carbohydrates and fats which are broken down in the human body into sugars which are burned to produce mechanical energy and heat, but at a far lower temperature. The release of heat in the human body keeps core body temperature at about 37 degrees Centigrade. This heat is lost to the external environment through skin conduction and through moist air exhalation at about the same rate at which it is internally generated. When humans become more physically active, and perform more physical work, their internal heat production increases, and their skin becomes flushed as warm blood is brought to the skin surface, and they start to breathe faster, and they may remove layers of insulating garments to increase their rate of heat loss.
Food is a useful tool. A loaf of bread contains some amount of stored energy, and this energy will, when eaten, power human life for some period of time. A standard loaf weighing about one pound, or 450 gms, and containing 5000 KJ of energy will power a human using 100 watts of energy/second for nearly 14 hours. And in Idle Theory, the value of a loaf of bread is 14 hours of continued life.
Strictly speaking, it is not food that provides energy, but its combustion in the presence of oxygen. And the human body must also work to acquire oxygen, by breathing it in from the atmosphere. And this is extra physical work. However it is not work that requires conscious supervision. The continual process of breathing using lungs, or pumping blood using heart, is largely under automatic control. And so its performance does not count towards being 'busy' in Idle Theory's terms.
Clothing and shelter are also useful tools. They serve to regulate the rate at which heat is lost from the human body. If body heat is lost rapidly in a cold environment, the result can be a fall in body core temperature, which may result in death. Equally, if heat is lost too slowly in a hot environment, body core temperature may rise, and this also can result in death. In many environments, clothing and shelter is essential to maintain life, and is as important in this respect as food.
The absence of food brings the pain of hunger, and of clothing and shelter the pain of cold, long before they bring death. Physical pain entails the interruption of an imperious demand to remove the source of pain, and this interruption is itself a form of work. To the extent that food relieves the pain of hunger, and clothing and shelter prevent the pain of cold, they serve to reduce work.
The Cost and Value of Useful Tools.
Tools almost invariably require work to be done to first make them. And this work entails a period of reduced idleness. The value of such tools is that they increase idleness over their lifetime - before they break or wear out. The cost of such tools is the time it takes to make them. While their value exceeds their cost, they are useful idleness-increasing tools. When their cost exceeds their value, they are useless idleness-decreasing impediments or luxuries.
This decrease in idleness attendant upon working to make some tool, and the increase in idleness gained from its use, can be expressed graphically as changes in idleness over time. Expressed as increases or decreases in idleness above or below some existing degree of idleness, the work that is needed to make some tool can be represented by a decrease in idleness over some period, and the consequent value gained from using the tool can be represented as an increase in idleness. Once the tool has been made and used, idleness returns to its initial level.